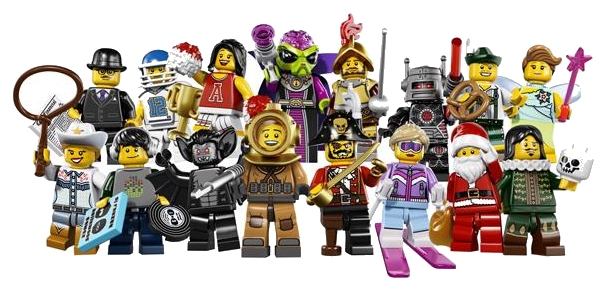 Literally just minutes ago, Brickset dropped the exclusive: this seems to be the line-up for Series 8, and it's about time a picture was shown.
I for one have been impatient over waiting for this picture to be released, and for me personally it doesn't disappoint. Early indications over on the Brickset post show that a lot of people aren't happy with some of the repeated figures (the female skiier, cheerleader and robot being prime examples) – but the last four series have proven that people will change their tune quick sharpish.
Some really cool things to look out for:
The DJ (bottom, second left) has a hairpiece with headphones moulded into it. I know a few of us were looking for someone to make a pair of headphones compatible with minifigures, and when I was dabbling with 3D printing I had thought about various solutions… but along with the jockey's helmet that made an appearance in the Team GB collectibles, it seems that LEGO has opted for custom moulds to include accessories. Very understandable.
The "Female Vampire" (bottom, third left) has turned out to be a bat-figure. It's the same kind of figure you can find in the Monster Fighters series. Quite frankly, I'm disappointed.
Check out Father Christmas/Santa Claus (bottom, second right) – following my review of last year's Holiday Set 2 of 2, he finally has a dedicated hat. I'm wondering if it's going to be a similar mould to the S4 Gnome?
The Thespian (bottom, far right) is one of the many surprises in this series, based on a Shakesperian actor. Check out the bodywear (that frilled collar), which is bound to be a highly sought after part.
The Fairy (top, far right) is one of the figures I'd suggested over on Eurobricks. It's kinda worrying that her head is sitting so high above the torso, but I can't wait to see how the wings will be done. It obviously looks like a neck bracket of some kind.
The Bavarian/Yodeller guy (not sure of his official name, but second right at the top) is holding a new pretzel part. I've heard that this is also going to make an appearance in one of the upcoming Hobbit sets. Somewhat disappointed that it's a guy, but this was also a figure I'd suggested in the Eurobricks thread.
The Female Alien (top, fourth left) is straight out of Alien Conquest, and I suppose they couldn't let those moulds go to waste.
The Businessman/Trader (top, far left) is another sorely required figure, and we will all be pleased to know that the bowler hat (introduced by the S5 Mini Clown) will come in black! and it's about damn time. This figure is absolutely ripe for a tribute to Bradford and Bingley, but expect to see ridiculous prices and extreme hoarding for that hat.
The (American) Football Player (top, second left) was one I'd completely missed when first scanning the picture, but it was a given there would be one in the Collectible Minifigures after S4's Hockey Player. Disappointingly he doesn't come with the pigskin, but he has what appears to be a new trophy piece.
Finally – and for me, the absolute highlight of the series – the Red Cheerleader (top, third left). I've been calling for an alternate cheerleader since Series 3, and I was thrilled to see one in the picture. The original Cheerleader was my favourite out of Series 1, and now the army building is going to start all over again – with the reds having some serious catching up to do.
My verdict thus far is as follows:
Hand 'em over, or I'll murderise 'ya – Red Cheerleader, Businessman/Trader
Put 'em in the bag – Fairy, DJ, Cowgirl, Father Christmas/Santa Claus, Deep Sea Diver
Interested in the parts – Thespian, Football Player, Bavarian/Yodeller, Female Skiier
Not worth stealing – Pirate, "Vampire", Conquistador, Evil Robot, Female Alien.
Most favourite: Red Cheerleader
Least favourite: "Vampire"
My predictions:
The Conquistador (top, fourth right) is going to be this series' Zombie/Spartan/Elf/Hazard Suit Guy/Gladiator/Roman Solider/Galaxy Patrol, but the Deep Sea Diver (bottom, fourth left) will also be popular for the many steampunk fans.
The Businessman/Trader and Father Christmas/Santa Claus will be the most hoarded and ridiculously priced figures.
All of a sudden there will be a demand for Cheerleaders, both blue and red (not least because I'm collecting them).
As with Series 3-7, most of the naysayers will attack me personally for my verdicts and predictions, yet, when Series 8 is released, will bitch up and refuse to sell or trade those supposedly unpopular figures.
Let me know what you think!